Unlocking Excellence: Your Midsota™ Benefits
At Midsota™, we believe that a thriving team is the backbone of our success. That's why we're committed to providing a comprehensive benefits package that empowers our employees to live their best lives. From your health and well-being to your long-term financial security, Midsota™ has you covered.
Our Comprehensive Benefits Package:
Read More

1. Health and Wellness: Your well-being is our priority. Midsota™ offers competitive health insurance plans that cover you and your family. We provide Health, Dental, and Vision insurance options, ensuring you're always covered when you need it most.

2. Financial Security: Your future matters to us. That's why we provide a 401(k) with a company match to help you build a secure financial foundation for your future. At Midsota™, your long-term goals are within reach.

3. Work-Life Balance: We understand the importance of balancing work with life. Our flexible scheduling options and generous paid time off ensure you have the freedom to enjoy your personal time without compromising your career.

4. Company Paid Short/Long Term Disability and Life Insurance: We pay for short and long term disability as well as life insurance to minimize your worry. We have your back so you can focus on growing your career through professional development.

5. Professional Development: Your growth is our growth. Midsota™ encourages continuous learning and professional development. We offer training opportunities and support for your career advancement, so you can reach your full potential.

6. Employee Assistance Program (EAP): We're here to support you through life's challenges. Our EAP provides confidential counseling and resources to help you and your family navigate life's ups and downs.

7. Company Culture: At Midsota™, you're not just an employee; you're family. We cultivate a positive and inclusive workplace culture that celebrates diversity and rewards dedication.

8. Employee Discounts: Enjoy exclusive discounts on Midsota™ products, so you can experience the quality of our trailers firsthand, even on your own terms.

Join the Midsota™ Team and Reap the Rewards

When you choose a career at Midsota™, you're not just signing up for a job – you're becoming a part of a supportive community dedicated to your growth, well-being, and happiness. Your success is our success, and your benefits package reflects our commitment to your holistic development.

Come be a part of the Midsota™ family, where your talent and dedication are celebrated, your future is secured, and your life is enriched. Discover how Midsota™'s benefits package is more than just perks; it's a promise to help you thrive, both personally and professionally.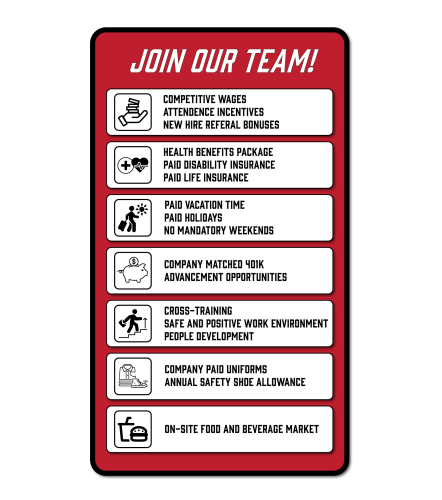 TO SEE A FULL LIST OF AVAILABLE POSITIONS, PLEASE VISIT OUR CAREER PORTAL.